---
One of the most anticipated features of the Chromecast that was announced earlier this year was Chromecast mirroring on Android devices. This feature would remove many of the limitations that has plagued using Android with the Chromecast; the main limitation being the low number of apps that supported beaming.
That limitation has been officially lifted as the recently released mirroring feature allows you to mirror anything onto the screen. This includes all of your video apps; yes even the ABC player app functions reasonably well using this feature.
Quality
The quality of the stream is very good, but is dependent on the number of pixels that your phone actually displays. (There is finally a reason to have more pixels on your phone's screen than the naked eye can see. Samsung has known all along!) The Galaxy S4 looked extremely crisp on the screen in all of its 1080p glory.
We did notice some stutter while there was either heavy network use or when doing resource intensive actions such as playing games. Speaking of which, don't plan on playing games on your television through the Chromecast as there is about a half second delay between your phone's screen and the television screen; making it an nonviable solution for gaming on the big screen.
Usability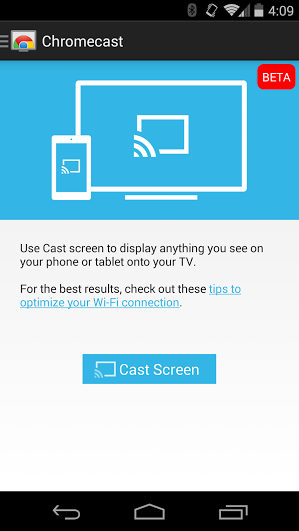 This feature is extremely user friendly. You simply download the Chromecast App to your phone, open the app, and tap Cast Your Screen. From there, anything you put on your phone will be placed on the screen. This can be extremely useful when showing videos, photos, or even your gaming to friends and others around you. As was mentioned previously, any video app can now be streamed directly to your TV, even if it isn't natively supported by the Chromecast.
The biggest downside to the release is that it only supports a small number of devices. The supported devices are as follows:
Nexus 4
Nexus 5
Nexus 7 (2013)
Nexus 10
Samsung Galaxy S4
Samsung Galaxy S4 (Google Play Edition)
Samsung Galaxy S5
Samsung Galaxy Note 3
Samsung Galaxy Note 10
HTC One M7
HTC One M7 (Google Play Edition)
LG G3
LG G2
LG G Pro 2
Sony Xperia Z3
Sony Xperia Z3 Compact
Google promises that support for additional devices is coming soon. While limited on the number of devices, I think it is safe to say that the demographic of the individuals that are most likely to utilize this feature, likely own a newer device increasing the likelihood of them owning a supported device.
Conclusion
The mirroring function is a welcome addition that helps address many of the inefficiencies that have plagued the Chromecast since its inception. While limited to a small number of devices, and its limitations in the area of gaming, the function works nearly flawlessly in 95% of our use cases for this functionality. We can honestly say that we now recommend the Chromecast to an even greater degree with this increased functionality