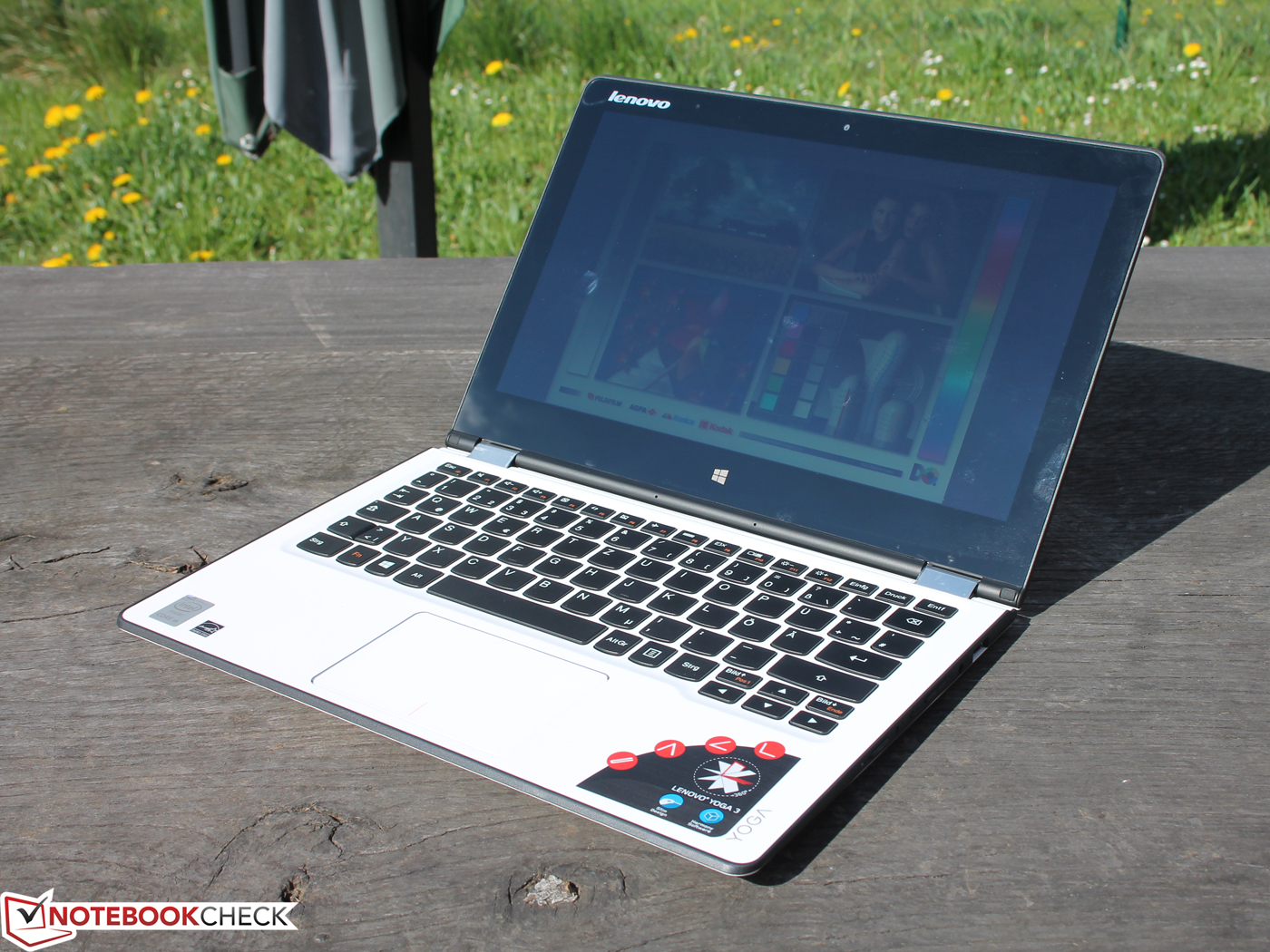 Lenovo's Yoga 3 is a two-in-one laptop with a ton of potential. With a form factor to please both tablet and laptop enthusiasts, 8 gigs of ram and a Core M processsor for power, all encased in a shiny package; you would think so. But does the laptop-tablet combo actually live up to its hype? Read on to find out.
Design and Form Factor
First, lets talk about its design. Before we get into discussing its most prominent feature, the hinge, I want to discuss the sheer quality and build of the laptop. The Yoga 3's chassis feels strong and firm. If you've ever used one of Lenovo's corporate grade Thinkpad laptops, you'll be intimately familiar with the material that the Yoga 3 is made out of. The hard plastic and signature rubbery texture feels premium. It also feels very durable. All of the plastic is firm to the touch. There is none of that flimsy plastic on the back side of the screen that makes many laptops screens seem vulnerable. The premium build is a little bit on the heavier side which doesn't bode as well while holding the laptop in tablet mode. You will definitely want to prop it on the arm of your couch or on your knee while using it as a tablet.
Onto the meat and potatoes! Let's talk a little bit about the infamous "hinge." Lenovo introduced the 360 degree hinge back in 2012. Being able to fold the keyboard back and away made this one of the first two-in-ones of its kind. The design hasn't changed much since its inception and still has some great advantages, but with various tradeoffs.
Some of the most obvious benefits of the 360 degree folding hinge is the ability to turn the laptop into a tablet of sorts. Holding and using a laptop with one hand while standing is nearly impossible. However with the Yoga 3's ability to turn it into a tablet, you can simply tuck away the keyboard and hold it in one hand while tapping on the screen with the other.
Additionally, the 360 degree hinge provides sufficient tension that you can put the screen to any angle. "Tent Mode", as Lenovo coins it, is where you fold the keyboard back far enough to make it a kickstand. This is extremely convenient when doing things like watching movies or even sitting at a table while eating a bowl of cereal and checking your social feeds. Being able to prop it up at any angle makes using it as a tablet infinitely more comfortable. Lastly, you can also place the keyboard flat against the table and adjust the angle of the screen in tablet mode as well. It's a very similar experience to tent mode except it lays flat which may be advantageous in certain scenarios.
This hinge brings a number of the benefits of being a tablet to the laptop, but it's not perfect. I'm still not sure how I feel about holding it as a tablet while feeling the clicking of the keys on the back. While the system is smart enough to disable the keyboard while in that mode, there is something unsettling about supporting the tablet with your hands on the keys. I worry I'm going to pop the keys out of the keyboard if I hold it too tightly.
Second, laying the keyboard face-down on anything is terrifying. You might as well just go get a bottle of honey and start pouring it on your keys if you plan on setting it on your kitchen table. (Alright, you might keep your kitchen table cleaner than mine, but still!) Tent mode is an infinitely less terrifying alternative that is just as good in my opinion. Just say "no" to laying your keyboard face down on your table. (pictured left)
Screen and Inputs
The screen is one of the areas in which the Lenovo Yoga 3 really shines. It has a full HD multi-touch screen. The colors are vibrant, the touchscreen is responsive, and the 11 inch size is one of the best happy-mediums balancing size and portability. While it is not the highest resolution laptop screen on the market, by any means, at 11 inches you really don't need a higher resolution screen than full-HD in my opinion.
Additionally, the keyboard and mousepad both performed exceptionally well. Many of the compact laptops and two-in-ones skimp on a quality keyboard, but you're definitely getting a solid typing experience on the Yoga 3. The touch pad is equally responsive with its satisfying mouse clicks.
The Yoga 3 also comes with quite a few more ports than your average two in one. (I secretly covet all the USB ports on this laptop and hope the Surface Pro 4 follows suit.) You've got three USB ports: two USB 2.0 ports and one USB 3.0 port. It also has a Micro HDMI out and an SD card slot. It's worth noting that one of the USB 2.0 slots doubles as the power input so it won't be available while plugged it, but it's nice that it's available when running on battery.
Sound and Speakers
The laptop has stereo speakers that are interestingly enough on the bottom of the laptop. Lenovo boasts immersive audio using Waves MaxxAudio so that everything sounds good regardless of the way in which you're using your Yoga 3. I found this to be mostly true. Despite the speakers being face down on the desk when in regular laptop mode, this is actually the position that I found sounded the best. If you're holding it in tablet mode, the speakers are blocked by the screen and you'll notice a bit of muffling.
The sound quality is actually surprisingly good. While I wish they would go just a tad bit louder, the speakers boast strong and crisp bass for laptop speakers. I was delightfully surprised to say the least.
Specs and Performance
The review unit that Lenovo provided us came with Intel's Core M Processor, 8 Gigabytes of DDR3 RAM, and a 256 GB SSD. While on paper, the specs seem decent, the performance of the laptop leaves much to be desired and ultimately hinders the entire experience.
I found performance to be somewhat inconsistent. When I first received the laptop, it seemed pretty zippy. The start menu was responsive and apps opened within an acceptable amount of time. However, as I started using Windows programs such as Chrome and Internet Explorer, I was quite disappointed by its performance. In fact, I sent the original unit back to Lenovo thinking it was defective just to be replaced by an equally sluggish second review unit.
The dual-core Core M processor is supposed to be energy-efficient while still packing a punch. Unfortunately, I found neither to be true. Webpages with high-resolution images stuttered heavily while trying to scroll. Even having more than 1 tab open in Chrome was too much for the processor to handle smoothly. For example, with a single tab open on Amazon.com, when typing my search, you could see the text was about .25 seconds behind. I even tried to run one of the 3D games optimized for Windows tablets (Modern Combat 4) and it ran at maybe 10 frames per second making it virtually unplayable.
Other non-3D tablet optimized apps such as Facebook seemed to run just fine. I tested both Hulu Plus and Facebook apps and they ran as expected. It seems it's primarily Windows programs that are not optimized for tablet level processors that the Core M processor struggled with most.
The benchmarking stats below that the Core M processor did not score well amidst other processors on the market. You can see how far the Core M lags behind its Core i5 counterpart in the benchmark screenshot below.
You would think that battery life would be the saving grace of the Core M processor, but that's unfortunately not the case. While battery life is on par with competition when actively running, what I found disappointing was battery life while in stand-by mode. Many times I charged up the Yoga 3 and put it in stand-by mode just to pull it out a couple of days later completely dead. Something in their stand-by algorithm needs some adjusting. Hopefully this will be fixed in a future software update.
Overall
Overall, there are a ton of aspects that I love about Lenovo's Yoga 3 laptop, however, its performance is overly hindered to the point that I simply can't recommend the 11 inch Yoga 3. While I haven't yet had any hands on time with it, the 13 inch Yoga 3 comes with a Core i5 processor which would likely be more than worth the extra few hundred dollars for the performance gains. Unless you only plan to use the laptop for Netflix and Facebook, I would avoid the Yoga 3 11 inch model.